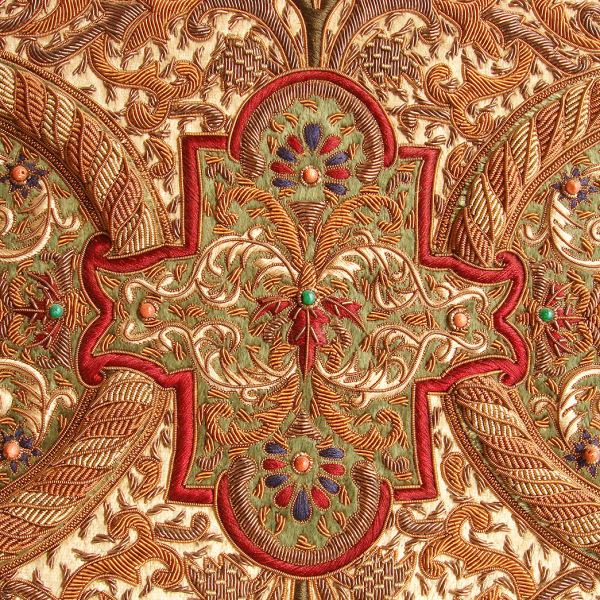 INTRODUCTION
Zardozi is an ancient Persian art ('Zar' in Persian means gold and 'Dozi' is embroidery) which has been passed down for many generations, dating back before the Mughal empire, reaching its zenith under the patronage of Emperor Akbar in the 17th century. Zardozi adorned the costumes of the court, wall hangings, scabbards, regal side walls of tents and the rich trappings of elephants and horses. Intricate patterns traced in gold and silver, studded with seed pearls and precious stones enhanced the shimmering beauty of silk, velvet and brocade.
With time the royal patronage extended to these craftsmen was withdrawn and most of them turned to other occupations. The regal art of Zardozi Embroidery is now limited to very few traditional craftsmen of this technique. Nowadays, this embroidery is done using very fine brass/copper springs and wires which are polished using sterling silver. Silk threads and semi-precious stones are also used for detailing and to add colour & depth to the embroidery.
This multi-dimensional embroidery is done in stages, wherein the first stage, a thick layer of cotton thread are sewn on the fabric wherever padding is required in the design. This padding gives three dimensional look to the embroidery. The brass & copper springs are precisely cut to size to fit into the area to be embroidered. These cut pieces are then individually hand sewn to create the required design. It requires a lot of skill, patience, precision and dedication to be able to do this embroidery as each piece takes months to complete.

OUR STORY
Gold Blend's association with Zardozi Embroidery started way back in 1995 during a chance meeting with the master craftsman of this technique Mr. Fazal Mohammad who was later conferred with India's most respected awards like 'Shilpguru' and 'Padm Shri' in the year 2002 for recognition of his distinguished contribution in the field of Zardozi Embroidery. A father to 12 children, he taught the craft not just to his own but also to thousands around the country. He was pained to see it dying, with work being replaced by cheap replicas and true artists losing their self-respect and faith in the craft. We offered to help and under his guidance, we designed and created our first line of exquisitely hand embroidered cushion covers to be offered to premium international buyers. Our efforts yielded results and soon we were exporting these exquisitely hand embroidered cushions to the best in the world.
To keep this traditional artform of zardozi embroidery alive and to make it more affordable for the customers around the world, we diversified into gifts and souvenirs using the same technique and today they are sold in the best of stores like Harrods, Fortnum & Mason, Royal Palace Trust Shop of Buckingham Palace and many more around the globe.
At Gold Blend we celebrate India, and endeavour to bring all that we love about India to customers around the world.