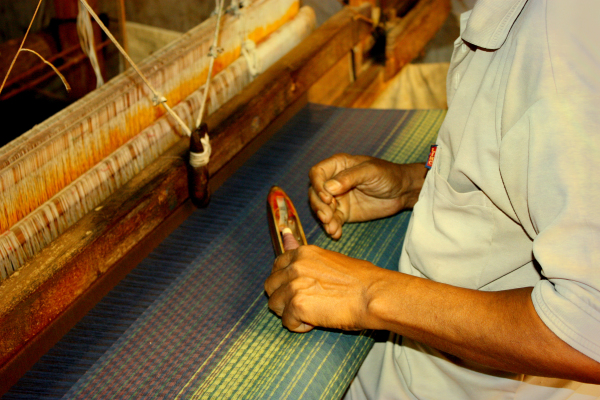 NTRODUCTION
One has to constantly remind oneself that the handloom weaver is an artist, a musician, and his loom an instrument of music. He is powerfully aware of every nuance of the weave and energises the rhythm of the loom to coax it into reproducing the finest music in textiles. The raga is established as he throws the shuttle through the tautly stretched warp threads, back and forth, over and over again. He beats the warp rhythmically, keeping taal. The wooden pedal is depressed to synchronise the throwing of the shuttles. The bamboo reeds are his wind chimes. All his senses of touch, sight and sound come into play during this play of divine music, a reverential piece of art. Each expression has its own language and its own interpretation. An expression which deserves to be respected and admired for all time.​
The muslin weavers of Bengal enjoyed a unique place and undisputable supremacy in the world market for centuries. Bengal handloom industry always reigned supreme for cotton textiles. Muslin is a finely woven gauze-like cotton fabric, named 'woven air' because of its delicate quality. The wonderful hand woven muslin of Dacca is a thing of the past. But the weavers who have migrated to India practice the same style in West Bengal. Traditionally, the finest cotton yarns are spun from the sliver by women. These fine yarns are delicately warped on the handlooms and experienced hands precisely weave the fabric, so fine that when stretched on the grass and drenched with dew would become invisible because of its fragile transparency. It is believed that this fine muslin was used to wrap the bodies of emperors and also the Buddha when he attained nirvana. Roman emperors paid fabulous sums for the prized Indian cotton which was known as mul mul khas. They were called abrawan (running water) or shabnam (morning dew).​​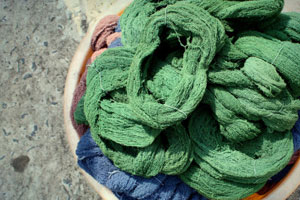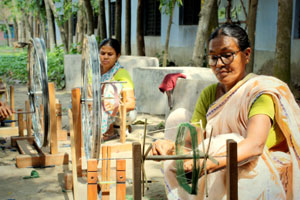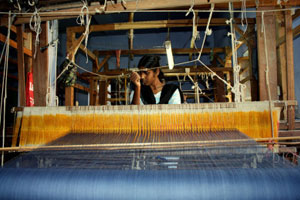 At a time when speed and precision have been the hallmark of production technology, the wholly hand spun and hand woven khadi cloth epitomizes a product of ultimate uniqueness and luxury. Hand-spun yarn is used in making khadi and this activity is mainly carried out in the rural areas of India. The handlooms producing khadi, weave the cotton in such a way that the interlacing of threads provides the maximum passage of air. It is thus cool and absorbent when worn in the scorching summer and surprisingly suitable in winter too. Today khadi is neither the metaphor nor choice for clothing of India's poor as envisioned by the 'father of the nation', Mahatma Gandhi. The handcrafted khadi is definitely a material of excellence that distinguished, and will do so always, Indian cottons throughout the world. Khadi cotton and silk textiles are some of the most expensive fabrics today and definitely one of the most beautiful textiles of India.

Today the handloom industry is the largest economic activity in the informal sector after agriculture, with approximately 3.8 million handlooms in India engaged in the production of natural fibre fabrics like cotton, silk and woollens and in man-made and mixed fibre fabrics. Integrally a part of rural life, about ten million people or more depend on these looms fully or partially for their livelihood. India's heritage has been subsumed into the national and ethnic design vocabularies in the world.
What affects one thing affects, in some way, all things.
All is interwoven into the continuous fabric of being.
Its warp and weft are energy, which is the essence of magic.
~Starhawk~
OUR STORY
We, at Gold Blend take pride in being associated with the handloom industry since our inception. Our small steps to build a team of skilled handloom weavers by educating and training them about the needs of the international markets have resulted in financial sustainance of more than 1000 weaver families across rural India.
In conjunction with consistent guidance from American designer PAUL ROPP (www.paulropp.com) over the years, we have created vast range of intricately hand-woven textiles which has been transformed by Paul Ropp into beautiful high-end fashion apparels & accessories for the western markets. As of today, Paul Ropp has more than 30 retail outlets and exports to more than 32 countries. This effort has helped us position handloom fabrics in the main stream fashion of the world.
Our vision is to create a platform for products that are made from traditional techniques, skills and hand-based processes. We link thousands of craft based rural producers of India to international markets, thereby creating a base for skilled, sustainable rural employment, and preserving India's traditional handicrafts in the process.
At Gold Blend we celebrate India, and endeavour to bring all that we love about India to customers around the world.