NTRODUCTION
India is a land woven intricately with traditions, culture and customs. With the colours and inspiration coming from the source of it all - its villages. And this is the India that GOLD BLEND brings you. In all its rich splendour, vibrancy and life.
To bring you products that truly reflect the mystery that India symbolizes, we go deep into the heart of the nation. Picking and choosing patterns that are flawless in their construction and appealing in their character. To produce which, the only support our craftsmen employ are their hands, skill passed down from generation and a passion borne out of years of practice. No machines aid their creation, which makes every single design unique in itself. And almost impossible to recreate
Our products are available in a riot of colours, shapes, designs, patterns and sizes that can make any wall, window, living room or bedroom spring to life. Because it is life itself that has gone into making every single curve and weaving every single thread.
Feel one with your hands. They all have a story to tell. And it's more eloquent than words can say....
VISION
Our vision is to create a platform for products that are made from traditional techniques, skills and hand-based processes. We link thousands of craft based rural producers of India to international markets, thereby creating a base for skilled, sustainable rural employment, and preserving India's traditional handicrafts in the process.
OUR STORY
Gold Blend Private Limited was founded in 1995 as an idea to preserve, develop and create a sustainable market for textile/embroidery techniques which are heritage of India but slowly becoming extinct. What started as a small team under the guidance of Padmshree awardee master craftsman, soon transformed itself into a business with prestigious clientele like Royal Palace Trust Shop of Buckingham Palace, Historic Royal Palace Shop, Harrods, Fortnum & Masons, John Lewis and many more in UK, USA, France, Spain and Middle-Eastern countries. The range soon expanded into Zardozi embroidered home furnishings and gifts & accessories.
In keeping the essence of the Indian traditions of hand embroidery and hand woven textiles the ideas transformed with products like Handloom fabrics, apparels, scarves, cushion covers, table linen, jewellery boxes, photo frames, tissue holders, Christmas decorations and souvenirs. Today, with a team of more than 500 of the best embroiders and handloom weavers, we are the makers and exporters of one of the most exquisite line of hand-embroidered cushion covers, home accessories and hand-woven textiles in India. Equipped with in-house design team headed by a National awardee craftsman and state of the art stitching unit, we produce the highest quality products to meet the international standards.
At Gold Blend we celebrate India, and endeavour to bring all that we love about India to customers around the world.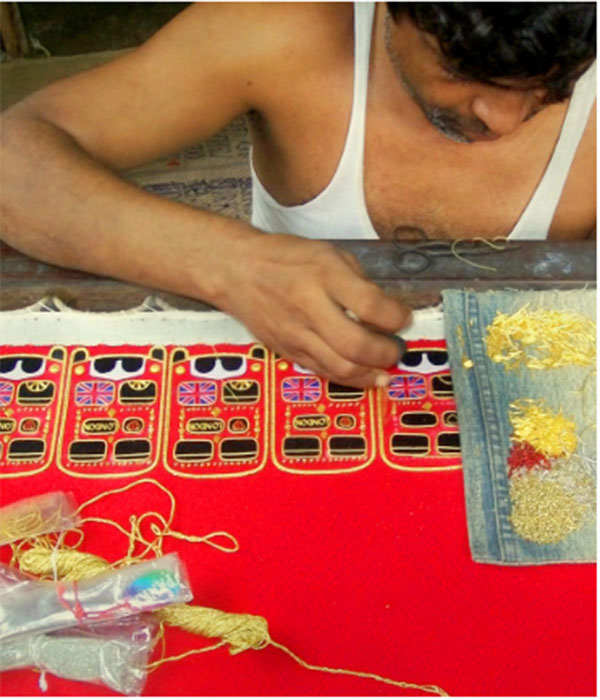 OUR TEAM